Cuadros -Victor Arnautov-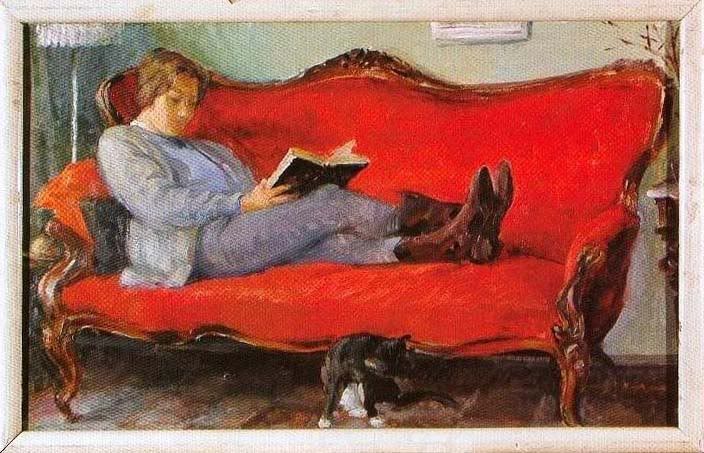 Reading woman
Cuadro de Victor Arnautov

Victor Arnautov Mikhailovich (1896 - 1980)
Painter, graphic artist. In his youth he lived in Mariupol. In 1920 he immigrated to Harbin , and was a student of M.A. Kichigin and A.A. Bernardacci at 'Lotos' studio. In 1925 he arrived at San Francisco. He was a student of G. Piezoni, R. Stackpole and L. Randolf at California Art School . )
In 1929-1931 he worked under the direction of D. Rivera in Mexico . He worked in genre of easel painting and graphic, made some personal exhibitions in San Francisco , Stockton , and Stanford. He participated in international exhibitions in New York and San Francisco . He was a lecturer of California Art School (in the beginning of the 1930s), of Stanford University (since 1936).
He was an Honoured Professor of Stanford University (1961), and Chairman of Russian-American Society of Helping the Red Army (1941-1945). In 1950 he belonged to Graphic Workshop Group in San Francisco , which united the left-wing artists. In 1963 he returned to the USSR and was naturalized. He realized some monumental projects (mosaics on the front of the House of Communications, panel 'From Scythians to Space'). During the last years he painted pictures on political themes.)
The pictures of this author are in collections of N.S. Khrushchov, G.Titov, A. Moiseev, M.Rostropovich, the Bolshoi Theatre, Russian Museum , in museums of the city of Zhdanov , Volgograd , Kiev and so on.
Labels: Cuadros