Cuadros -Atanur Dogan-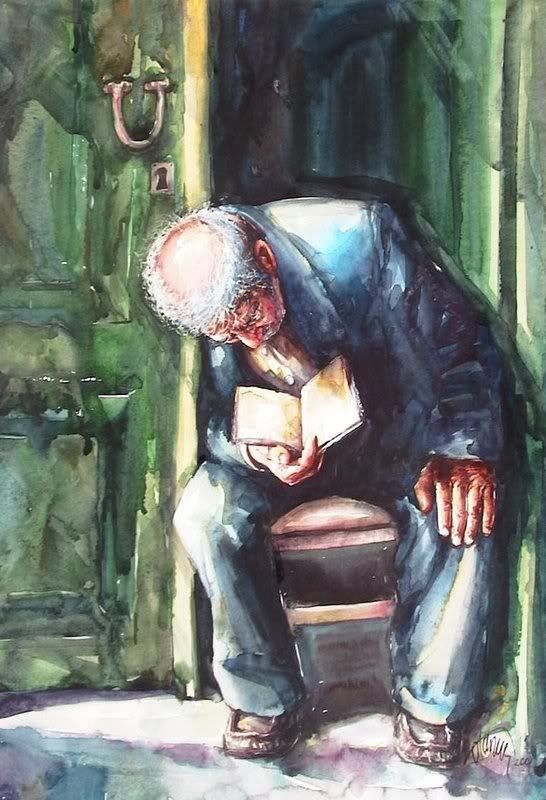 Cuadros de Atanur Dogan
Atanur Dogan
He is a watercolour artist and sculptor living in Izmir, Turkey, although he spends each summer with his family in Canada. He is a graduate of the Fine Arts program at the Dokuz Eylul University in Buca, Izmir, where he specialised in watercolour and sculpture.
Atanur has travelled throughout Turkey spending a considerable amount of time in small Anatolian towns and villages. His work captures the daily life of ordinary people going about their tasks or idling in the heat of the day. His figures have a great strength and sense of poetry, reflecting an uncomplicated existence, structured only by the demands of a more traditional way of life. In his paintings the blacksmith works in his forge, women in the fields pause in their labour, and at home the men talk or play cards in the coffee house, an old woman gazes out on the world with a wisdom that only age and experience can provide. He is well travelled and has painted subjects from a variety of cultures and peoples, worldwide.
Atanur´s portraits reflect an acute awareness of character. His work is distinguished by a unique rendering of his subject's face and hands. With his excellent drawing skills and control of watercolour he reveals the personality and attributes behind an old man´s face that bring it to life in a way unusual in this medium. The hands of an old villager tell of the harshness of work and, and yet, a quality of tenderness. His strong and determined use of dark colours with spots of light and a liberal use of water are both risky and extraordinary for a watercolorist but he achieves amazing results. It is these abilities and techniques, in particular that make his paintings so appreciated and valuable.
Atanur´s passion for creating real life, characters find expression in his sculpture as well, the same natural, vigorous and anatomically correct figures, the same focus on detail and expression to convey the distinctive qualities of his subject. It is due, in part, to his skill and experience as a sculptor that the figures in his paintings have such intensity and dimension. His commissioned works of famous people can be seen throughout Turkey, in public parks and plazas.
Labels: Cuadros