Cuadros -George Devlin-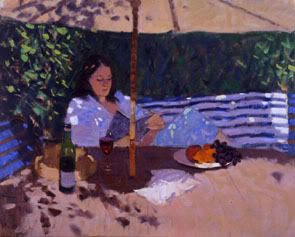 Nuala Reading
Cuadro de
George Devlin


George Devlin
He was born in 1937 and studied at the Glasgow School of Art (GSA) from 1955 to 1960. After leaving Art School, George Devlin studied and painted in Greece and Italy before crossing the Sahara where he established himself in West Africa. On returning to the UK, George Devlin was invited to teach painting at the GSA school where he taught art between 1962 and 1966.
Set up own painting school in France in late 1960s and again in 1989. Shows successfully north and south of the border. Some still life work but mainly landscapes particularly of Italy, France and of course Scotland but also Indian and South Africa. Bright, fresh , sponaneous, plein air approach results in atmospheric impressions.
In recent times George Devlin has worked extensively in Singapore, Hong Kong, Japan, France, Italy, Spain, South Africa as well as Ireland and Scotland.
George Devlin has a significant reputation for his Marine and Landscape paintings. But he is also a distinguished portrait painter.
Labels: Cuadros