Cuadros -Alain Despert-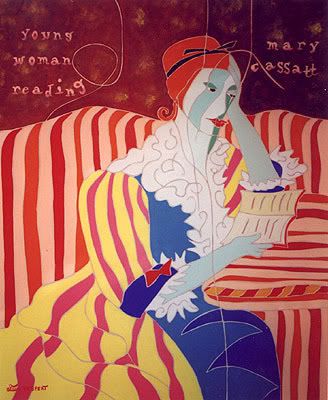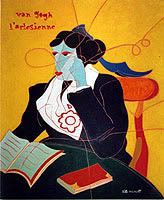 Cuadros de
Alain Despert
Alain Despert
He was born in Brittany, France in June of 1943. He was educated in Strasbourg. He lived several years in the southern regions of Provence and the Cote d'Azur and later moved to the island of Bora Bora.
It was the beauty of the South Pacific that first inspired Despert's creative talent. His bright and colorful paintings of everyday life in French Polynesia soon caught the eye of many, including the editor of Town & Country magazine who was visiting Bora Bora to prepare a story on the island. A photograph of Despert surrounded by his paintings was included in the article. As interest in Alain Despert's work increased, his hobby quickly turned into a full-time profession. He was convinced to move to New York City to pursue his artist's dream.
In 1990, shortly after his arrival in New York, Despert was discovered by the legendary marketing genius from Absolut vodka and included in the famous worldwide advertising campaign. His image of the Absolut bottle floating in the lagoon of Bora Bora appeared in international magazines such as Arts & Antiques and Connoisseur. Alain Despert's paintings have exhibited coast-to-coast in the United States including: New York, Los Angeles, San Francisco, Miami, Santa Fe and many other major cities. His work is collected throughout the entire world and his paintings have been selected for prestigious collections along with renowned contemporary artists such as Keith Haring, Roy Lichtenstein, Robert Rauschenberg, and Jim Dine.
In 2001, after over a decade of painting and exhibiting in the United States and Paris, Alain returned to settle in Bora Bora and once again paint in the tranquility and splendor of the island he so loves. His studio is built high on a hill where he overlooks the magical blue lagoon and beyond.
Alain Despert is a prolific artist and has covered a wide range of subject matter, from "Cars of the Fifties" to "Dante's Divine Comedy". He is self-taught with a remarkable talent for brilliant color combination and a unique style of flowing lines throughout his paintings. His work is captivating and his unending creative imagination brings energy and life to each canvas. Whether a figurative or an almost abstract painting, an earlier or a more recent work, each creation is distinctively a Despert.

Página
web
del artista
Labels: Cuadros